Save the Date!
Saturday, July 13 • 10 AM-3 PM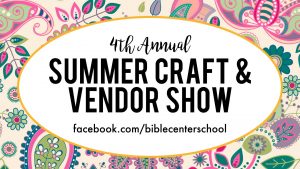 Bible Center School will host it's 4rd annual Summer Craft and Vendor Show on Saturday, July 13, from 10 AM-3 PM. We are planning to have 40 different craft and vendor booths. Plan to come out to shop all our vendors great merchandise and help support Bible Center School. Our students will be selling delicious concessions all day to raise money to support the school!
So check out our Facebook event, invite your friends and bring the whole family out on July 13!
Vendors/Crafters
Applications are being accepted for all interested vendors and crafters on a first come, first serve basis. Please see the application and guidelines for all details.