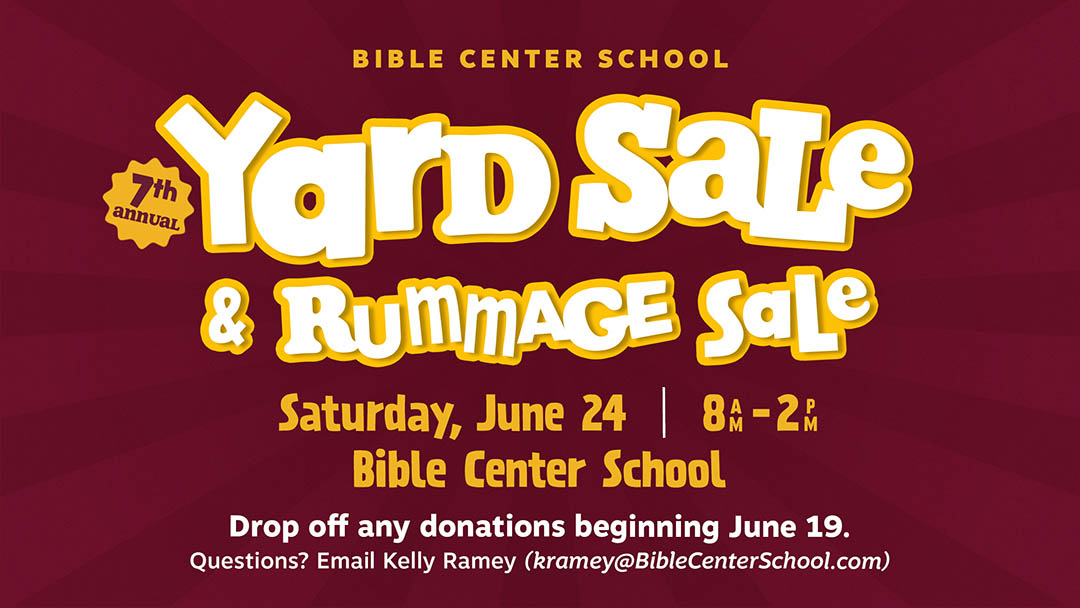 BCS Summer Yard Sale & Rummage Sale
Saturday, June 24, 2023 • 8 AM-2 PM
Bible Center School | 1111 Oakhurst Drive
(Across from Ashton Place)
Join us for a day of fun and good deals while supporting BCS!
Volunteers Needed!
We need your help to make this event a success. Complete the form to let us know to count you in!
Bible Center School will host its 7th annual Summer Yard Sale in June.
This event features 25-30 different families with some great bargains. Plan to come out and help support Bible Center School.
We also plan to have a BCS Rummage Sale of donated items.
Applications are being accepted for all interested sellers on a first-come, first-serve basis. Both indoor and outdoor spaces are available.
If you don't have enough to fill an entire booth, consider donating your gently used items for our Rummage Sale. We gladly accept any of the following:
Household items
Office Supplies
Kitchen appliances
Furniture (Stain-free)
Home Decor
Electronics (NO Televisions or computers/equipment)
Clothing (no rips, stains, or holes; freshly laundered; smoke-free home)
All items must come from a smoke-free home and be in excellent-to-new condition. Items may be dropped off at Bible Center School Rec Room on Monday, June 19 through Thursday, June 22 from 9 AM-2 PM.